Heritage Rooftop open air gastro bar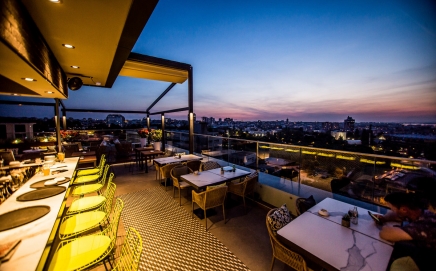 Side by side with many other metropolises worldwide, the city of Belgrade has always been the target of hedonism, delicious food, entertainment and bars in which good time is always guaranteed. Following the world trends, more and more rooftop restaurants are still being opened in our city.
One of them is the recently opened Heritage Rooftop open air gastro bar.
The restaurant is located on the ninth floor of the Heritage Hotel, and although it is centrally located, you will have the impression that you are a long way from the city's hustle and bustle. A perfect combination of its stylish setting, spectacular views of the city and the river, excellent service, relaxing atmosphere in almost idyllic surroundings are only part of the picture frame you will store your memories in from this magic and unique place. The sunset here has an irresistible color.
This place is a genuine paradise for those people who love to indulge themselves in tasty food, exquisite wines, beer and other alcoholic drinks. It attracts equally the local urban citizens as well as the foreign ones.
Special music programme is waiting for you every Thursday, Friday and Saturday, throughout the whole season. The place is open from 9 am until midnight on workdays, and from 9 am until 1 am on Fridays and Saturdays.
This is exactly what you need at the end of another well-planned day in Belgrade.